Posted on Jan 28, 2021 in
Hair Care Techniques
Don't you love the look of a beautiful, elegant hairstyle? Whether you are looking for an updo or a braided style, this blog post will be your go-to guide to stunning hair. But, if you're not sure where to start with your hair, then take some inspiration from these pictures and find yourself one of these simple but gorgeous hairstyles.
Do you want to know how to transform your hair with ribbons?  The unique updo or half-up hairstyles are some of the most popular. But, if you're looking for a new style that will ensure that people look at your hair instead of your outfit, then this is it. Here are some examples.
Tie a ribbon on your head
Ribbon hair is all about making a statement. You can have your hair up or down, straight or curly, and it will still be elegant with the addition of a ribbon. There are three ways to wear this hairstyle:
wrap ribbons around your head in an infinity style,
use one long piece of ribbon at the crown for an elegant updo,
tie two pieces of ribbon together on each side for a low-maintenance ponytail. This hairstyle is perfect for trying out this season.

Ways to wear a ribbon in your hair
Are you looking for an elegant hairstyle that will make you look like a celebrity? There are many different styles to choose from. They are easy to do, and they will leave your hair shiny and beautiful!
Ribbon braid updo with bangs: this style has been around for years, but it still looks beautiful today! It's very simple, all you have to do is pull back your hair into two ponytails on either side of your head. Then tie them together with a pretty ribbon at the top! The result is glamorous yet youthful.
Short asymmetrical cut with braids: This style can be done in so many styles.
Braided Headband: The braided headband is a classic style that every woman should have in her arsenal. To make this look work with ribbon, braid two separate pieces of ribbon together or use one long piece cut into two equal lengths before braiding. Braid until about an inch from the end and secure with a small elastic band if needed.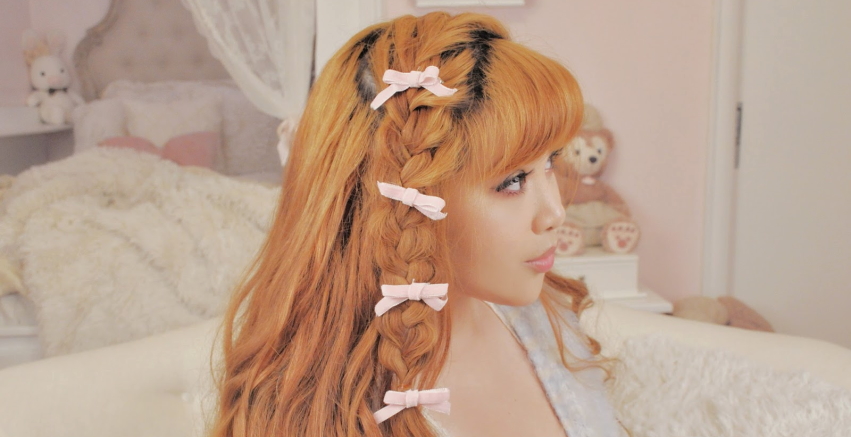 A ribbon is a beautiful accessory that can add flair to your hairstyle. It's easy to incorporate ribbon into your hair in many different ways, and it's an inexpensive way to add some style without breaking the bank.
How many times have you seen a woman wearing her hair in a bun and thought, "I wonder how she got that ribbon to stay!" Well, we're here to show you just how easy it is. Whether you're looking for something simple or want some extra flair, there are several ways to wear a ribbon in your hair.
First off: what do I need? You'll need two pieces of ribbon (one wider than the other), an elastic band, and pins. If your hair is thicker or longer than shoulder length, use three pieces of ribbon instead of two. Next: where should I wear my ribbons? One-piece goes over the top like a headband (try placing it at the back for more effect).